While humans all over the planet are being challenged by the COVID-19 pandemic, it has given nature everywhere a respite.
Carbon emissions have dipped, there is almost no carbon monoxide in the air over large parts of India and China because vehicles are off the roads, NOx and sulphur dioxide concentrations in the air have dropped. The concentration of particulate matter like soot given off by industries and diesel trucks have also decreased, improving air quality over Asia's most-polluted cities.
Here in Nepal, Mt Everest and Himalayan peaks have got a much-needed respite after the government cancelled all expeditions and treks from the mountains for the spring climbing season. There has been an international uproar last year after photos of a traffic jam on the summit ridge of Mt Everest went viral. Garbage and corpses on the mountain have gotten a lot of media attention.
An empty Ring Road today after the lockdown came into effect at 6am. Photo: BIKRAM RAI
The sunny spring sky in Kathmandu was brilliantly clear on Tuesday, the first day of a week-long nationwide lockdown. With no traffic, and flights all grounded, there is no noise pollution in the street or the sky.
But the happiest must be wild animals in Nepal's national parks, including those popular with tourists like Chitwan, Bardia, Langtang and Shivapuri-Nagarjun, where visitors have not been allowed since Sunday.
After the government closed schools and offices last week, Kathmandu's residents had started arriving at Shivapuri and Chitwan by the busloads for picnics during weekend, prompting park officials to close entry on Monday.
"We had to close the parks because there was an increase in visitor numbers, but with the announcement of the nationwide lockdown from Tuesday, visitors will not be coming anyway," said chief of Bardia National park Ananath Baral.

Langtang National Park.
On Sunday, there were more than 400 visitors — about four times the daily average — at Shivapuri-Nagarjun, the national park on Kathmandu Valley's northern and western rim.
Conservationists say the drop in human activity will be a relief to the park's wildlife, since any extra noise can disturb their habitat and movement. Naturalist Mukesh Chalise recalls how there was an increase in wildlife in Langtang National Park after trekkers stopped coming due to the 2015 earthquake.
Read also: Between existence and extinction in Nepal, Sonia Awale
"It used to be difficult to see resident fauna and birds, now there are herds and flocks of them out in the open in Langtang," Chalise says.
Due to its terrain and topographic range, Nepal has some of the richest biodiversity in a country with such a small area. There are 876 species of birds, 185 species of mammals and 651 species of butterflies in Nepal, some of them are only found here and nowhere else. National parks and protected areas cover 27% of Nepal's area.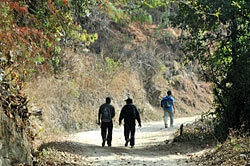 There has been a big increase in park visitors in the past few years. Nepal's national parks and conservation areas registered 510,000 foreign visitors five years ago, and this grew to 701,000 last year. There is no count of the number of Nepali visitors, and if this is added it would take the numbers to nearly 1.5 million per year.
Read also: Nature without borders, Sewa Bhattarai
There has also been little attempt to regulate the entry of sightseeing vehicles into national parks. In Chitwan alone, the national park issued 35 jeep permits every day for jungle safari into the core area. Bardia issued 22 jeep permits per day, with each vehicle carrying 10-14 visitors. Besides this, both Chitwan and Bardia also issue dozens of elephant safari permits.
All this has now come to a halt, and has eliminated human disturbance. Chalise says this will allow wild animals and birds to be left alone for a while which will be good for nature to rebound.

Photo: ALEX DUDLEY
"We had already started seeing rhinos interacting more and more with humans, and acting tame. It is very dangerous for the rhino to lose its fear of humans because this may expose them to poachers," adds Chalise, who says there should be a permanent ban on human entry into national parks. Tourists should be allowed only into the buffer zone.
Sindhu Dhungana at the Ministry of Forests and Environment, however, says that if local people do not see any advantage of eco-tourism they may not help in conservation, and visitors should be allowed but in a regulated numbers.
"The main criteria should be how much human activity is disturbing wildlife, and if it is serious numbers should be regulated," Dhungana explains.
Lessening human entry into national parks will also prevent the spread of human diseases like tuberculosis to rhinos and elephants, and also stop viruses from wild animals infecting humans.
Chalise also warns that the nationals parks should be vigilant about increased activity of poachers taking advantage of the national shutdown to hunt wild animals either for meat or tusks, horns and pelts.
Mukesh Pokhrel
March 24, 2020
Article Source: nepalitimes.com
---