On the way from Makwanpur to Kathmandu (via Kulekhani) in monsoon and post-monsoon, anyone will notice big and small landslides along the roadsides. Landslides may cause human casualties and block the highways for several hours. Landslides are quite common in Nepal owing to active and fragile geology. Nepal disaster report (2019) has listed landslides as the second most frequently occurring disaster. In 2021, 337 landslides killed 178 people and damaged property worth NPR. 34,635,000.
Nepal has already witnessed 2458 landslides between 2011-2021. In this span of 10 years, 1384 people have lost their lives, and the total recorded estimated loss in this period is NPR 1,752,650,237. Various natural (heavy rain, flood, earthquake, soil fragility) and anthropogenic factors (infrastructure development, especially road construction, sand/gravel/ mining, and deforestation) are responsible for triggering landslides.
(Source: Nepal Disaster Risk Reduction Portal)
There were about 462 landslide incidents from 2011-to 2015. However, the landslide events increased by 4.3 times since 2015 and the numbers of incidents that took place between 2016-2020 were 1996. From these data, we can speculate the long-lasting impacts of the 2015 major earthquake of Nepal that may have increased the landslides vulnerability. Conversely, we can also argue that disaster documentation may have improved post-2015 earthquake incidents.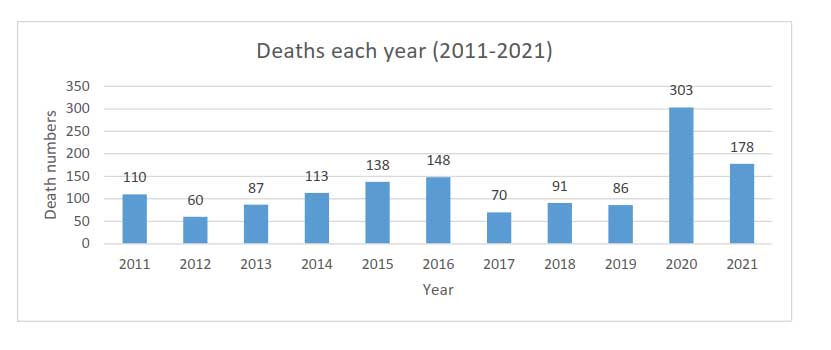 (Source: Nepal Disaster Risk Reduction Portal)
The year 2020 has the highest numbers of landslides (493) of the decade and it is also the year having the largest casualties of 303. Out of 1384 people who lost their lives between 2011-2021, 478 were males and 384 were females, while the rest were declared either missing or unidentified. The increasing casualties in recent years point out the growing vulnerability of the community. About 8169 families have been affected and 1130 people were injured by the landslide incidences in the past 10 years.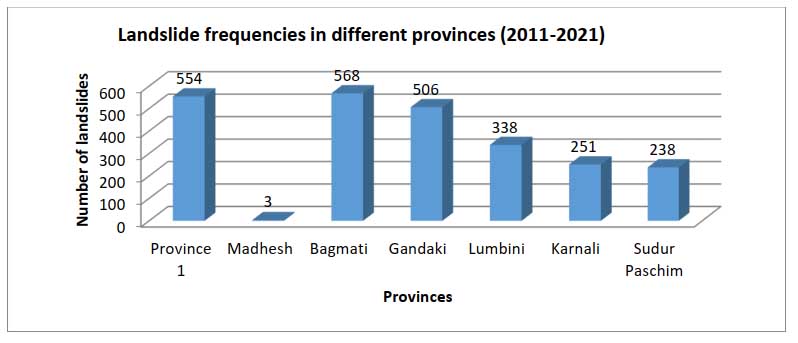 (Source: Nepal Disaster Risk Reduction Portal)
In Nepal, Bagmati Province has the highest landslide incidences (568) between 2011-2021. Province 1 comes second with 554 landslides and Gandaki Province is the third with 506 landslides. These are the provinces with fragile geology and rapid urbanization. Urban centers are increasing faster, which points to the need for more development infrastructures (such as road, housing, irrigation facilities, electricity) to meet the demand of the ever-increasing population. Some of these infrastructures such as non-engineered roads could trigger landslides.
(Source: Nepal Disaster Risk Reduction Portal)
The seventeen districts are affected by 50 or more landslides between 2011-2021. Baglung comes first with 100 landslides, Shankhuwasabha is second (95) and Nuwakot is third (92). Most of these districts are part of the hills and mountain regions of Nepal and call for attention and larger interventions.
(Source: Nepal Disaster Risk Reduction Portal)
To understand the timeline of landslides, we analyzed the monthly data of ten years between 2011-2021. It was observed that landslides gradually increased from May and peaked during July (reached 1059) and then start to fall in September. In Nepal, the monsoon occurred between June-September so during this time disasters such as landslides and floods are common.
(Source: Nepal Disaster Risk Reduction Portal)
The monthly landslide incidences of 2021 were similar to the previous decade since they gradually increased from May and peaked during July (reached 94) and then start to decrease in September. However, one interesting observation is the sudden increase of landslides in October 2021 which is post-monsoon season. It showed that the deadly impact of monsoon when combined with unplanned development activities has the potential of increasing the frequencies of landslides.
If we summarize the graphical information of the last ten years, the year 2020 has the highest numbers of landslide incidents and deaths. This means after the 2015 Gorkha earthquake, the number of landslides are increasing every year (except for the year 2021). Province-wise, Bagmati has been identified as the most vulnerable province whereas among districts Baglung stood first which falls in Gandaki province. Among the months, most landslides occur in July which is quite obvious as this is the peak monsoon season. Based on these scenarios, our planning and programs need to be developed keeping seasonal influence in mind. However, the programs are focused more on search and rescue operations rather than preparedness and resilience.
In conclusion, landslides are one of the most frequently occurring yet less studied and intervened disasters in Nepal that requires immediate attention. The planned settlement, decreasing exposures to landslides areas, provision of the early warning system, slope stabilization activities, promotion of green-belt road are a few of the options that could be explored to prevent loss of lives and properties. Both natural and anthropogenic causes of landslides are to be thoroughly researched and the relevant stakeholders need to strategize on how to best manage the landslides.
---